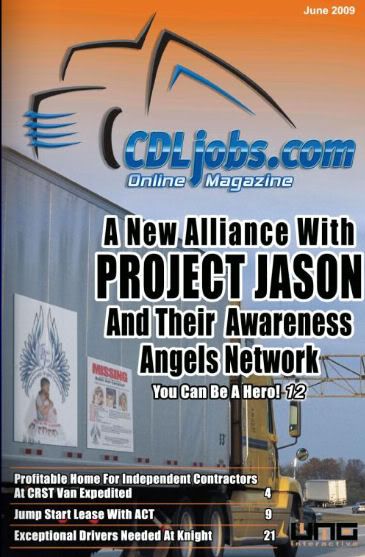 Front page of CDLJobs.com June 2009 Issue
Project Jason and CDLJobs.com Announce Alliance
CDLJobs.com, a subsidiary of Williams Media Group, and Project Jason, a 501 c 3 nonprofit organization which assists families of missing persons, has announced an alliance. CDLJobs.com will promote Project Jason's Awareness Angels Network program in their monthly online magazine.
Awareness Angels Network (AAN). AAN, begun by Project Jason in 2008, provides a way for the public to assist the families of missing persons. Missing persons posters designed specifically for the AAN program are disseminated via email to those enrolled in the program. Participants can then upload the posters to websites, print and place the posters in public areas, and forward them to their contacts. The program helps spread the word and increase the chances of finding the person.
Each month, CDLJobs.com will publish a full color ad in their popular online magazine which will feature 5 of Project Jason's missing person cases from across the country. The ad has clickable links which take the reader to additional information about the missing person, and a link to their printable poster. Readers are encouraged to sign up for the AAN program and help with poster distribution. "You can be a Hero" is the theme of the joint venture.
"We're very grateful for this opportunity to have another avenue of awareness for our missing person cases," said Kelly Jolkowski, President and Founder of Project Jason. "Each poster placed represents a chance to help bring a missing loved one back home." Project Jason staff will select the cases for the monthly ad.
[img width=400 height=304]
http://img.photobuck...uneFullPage.jpg
[/img]
Full page spread introducing Project Jason's AAN Program in the June issue of CDLJobs.com
In the June issue, the following missing persons were featured:
Bobbi Ann Campbell, missing from Salt Lake City, UT since 1/7/1995
http://projectjason....hp?topic=1432.0
Jason Jolkowski, missing from Omaha, NE since 6/13/2001
http://projectjason....php?topic=131.0
Adam Kellner, missing from Stevenson Ranch, CA since 7/08/2007
http://projectjason....hp?topic=2895.0
Becky Kraemer, missing from Milwaukee, WI since 12/15/2003
http://projectjason....php?topic=720.0
Annita Price, missing from Moundsville, WV since 5/28/1974
http://projectjason....hp?topic=5832.0
To see the June issue of the online magazine, please go to
http://www.cdljobs.c...zine/JUNE09.htm
An introduction to Project Jason and AAN is on page 12 and the ad is on page 13. (Use the arrows at the top center of the page to advance the pages, and use the zoom button to increase the page size.)
About Williams Media Group and CDLJobs.com
Williams Media Group began in March of 1999, and specializes in advertising for the truck driving recruitment industry. CDLJobs.com, a subsidiary, offers the most comprehensive listings of truck jobs industry interests available. It features: up-to-date news; a trucker's blog for driver comments; links to other sites of industry interest; and notices of driving opportunities from across the country. The site gets thousands of visitors on a daily basis.
About Project Jason
Project Jason, founded in 2003, is a nonprofit organization dedicated to assisting the families of missing persons, and creating and increasing public awareness of missing people through a variety of outreach and educational activities. Project Jason brings hope and assistance to families of the missing by providing resources and support. The organization is based in Omaha, Nebraska.
For more information about Project Jason's objectives, activities and services, go to
http://www.projectjason.org