Registration is now open!
Note: The deadline to register and still get your free t-shirt has been extended to 9/9/09.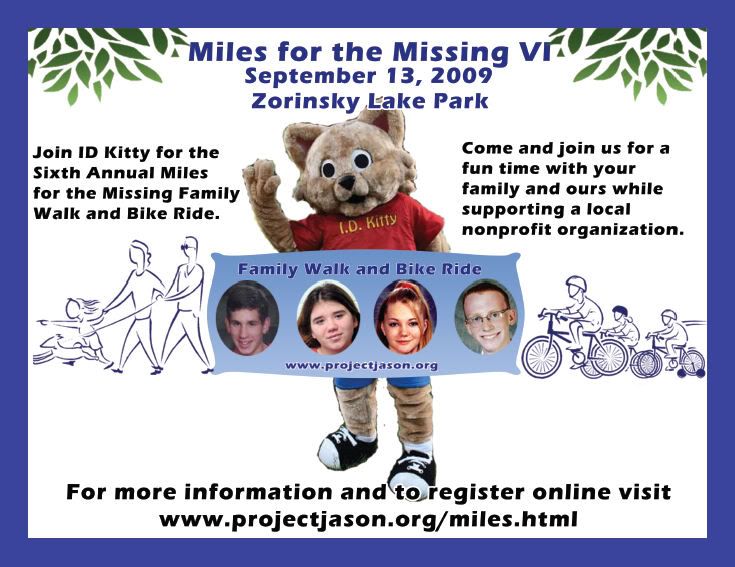 This casual ride/walk, which is for all ages, will be held at Zorinsky Lake Park, located at 156th and F St in Omaha, NE.
The ride/walk is scheduled for 9:30am on Sunday, September 13th. Trail coverage with first aid and water will be offered until 2:00 PM.
The Miles for the Missing Family Walk & Bike Ride is one of Project Jason's annual fundraisers. It's also a chance to do something fun and healthy together with your family.
As it is a casual ride/walk, you may go any distance you wish, on foot or on your bike, whether it is one mile or seven. The trail is paved and SAG and free water will be provided. Heartland React will be available to provide first aid along the entire designated route for the safety of all riders/walkers.
Families of missing loved ones will be located at the ride/walk to share their stories and information about safety, prevention, and what you can do to help. Project Jason Board Members and volunteers will also staff the route and assist with check in at the shelter #2, located on the north side of Lake Zorinsky at 156th & F Street in Omaha.
Personal ID Kits and other free safety materials will be available. Kids will also delight at meeting I.D. Kitty, a 6' lovable furry mascot who helps kids and moms and dads understand the need for an ID Kit for every member of the family.
The ride cost is $20.00 per person. Pre-registration is encouraged and preferred.
Riders/walkers who pre-register by September 3, 2009 will receive a free Miles for the Missing V t-shirt at check-in.
Riders/walkers of all ages must have a completed and signed registration form before entering the trail. Children under age 10 riding/walking with a parent or guardian may walk/ride free, but will still need a waiver form signed by their parent or guardian.
T-shirts for children under age ten (optional) may be purchased for $7.50 each at the time of registration.
To ride/walk along with us on the Miles for the Missing V, please download, print, and complete the registration form below. You may also submit the form via the online submission form and pay for your registration fees via PayPal. Once your online registration form has been submitted, we will send you a registration invoice via PayPal.
Register Online:
http://www.projectja...esRegister.html
Mail-in Registration:
http://www.projectja...g2009Waiver.pdf
Mail-in Registration in brochure form:
http://www.projectja...009Brochure.pdf
Your entry fee allows us to purchase visual aids for the families of the missing, such as posters, and photo buttons. Families of the missing are never charged for any of our services. Future funding will enable us to continue to add new awareness programs to aid in the location of missing persons. It will ensure we are able to obtain the tools and technology necessary to begin and maintain these programs. Funding, both private and corporate, is needed to be able to expand and continue our bus bench program and our Keys to Healing retreats.
If you have any questions, please contact us at milesforthemissing@projectjason.org, or call 402-932-0095.
Project Jason is an all-volunteer 501 © 3 nonprofit organization.