http://www.nbc29.com....asp?S=13716473
LAPD Looking for Missing Person in VA
Posted: Dec 20, 2010 5:56 PM EST
Updated: Dec 20, 2010 5:56 PM EST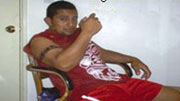 Adrian Flores
Release from Virginia State Police:
Los Angeles Police are asking Virginians to help locate a missing California man. Adrian Flores, 30, of Los Angeles, Calif., was last seen in LA on December 22, 2007. LAPD investigators have recently developed information through the course of their investigation that Flores may very well be living and working in Virginia. Flores, who may be in Virginia under an alias, is a Hispanic male 5 feet 5 inches tall and weighing approximately 190 pounds. He has a "tribal band" tattooed around his right bicep.
In 2007, Flores left suddenly without taking any belongings or advising his employer that he was quitting his job.
Anyone who might recognize Flores or have any information on him is encouraged to contact the LAPD's Missing Persons Unit at (213) 996-1800
.