Miles for the Missing, Superbear Campaign

Faster than an expedited package! More powerful than the average social media savvy bear! Able to leap over tall fundraising barriers in a single bound! ("Look! Posted on Facebook!" "Tweeted on Twitter!" "It's a You-Tube video!" "No, it's Superbear.. strange visitor from another planet, who came to Earth with powers and abilities far beyond those of mortal bears!
Superbear… who can change the course of the future for families of missing persons, bend hearts positively with his bare hands, and who, disguised as Teddy Bear, a mild-mannered volunteer for a non-profit organization, fights a never-ending battle for awareness for missing persons, donations, and the American way! And now, another exciting travelouge, in the Adventures of Miles for the Missing, Superbear!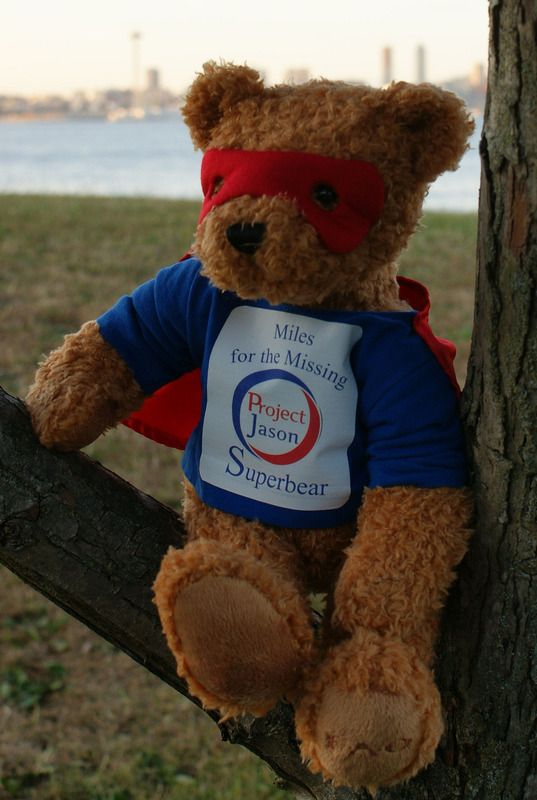 I'm Miles for the Missing, Superbear. I'm going on a journey all over the US to visit families of missing persons and bring awareness to their loved one's case.
I'm fueled by generous people like you, and won't be able to travel without your donation to Project Jason, a 501c 3 nonprofit organization. For every 3 donations above $14.99, I get to travel and meet the next host family. Unlike my friend Superman, who has an aversion to green, I love it!
While I am with my host family, they'll show me around town and I'll check in on my Facebook page so you can watch my journey unfold. They'll take cool photos with me and a poster of their missing loved one. They'll also share a story with me about that person and I'll share all of it with you.
I have the best volunteer job ever as I get to travel, visit with these families, learn their stories, and best of all, create awareness for their missing loved ones!
It's Superbear easy to donate. You can:
Mail a check to Project Jason at PO Box 59054, Renton, WA 98058
Use Paypal or Network for Good. The links to both of those websites can be found here: http://projectjason.org/how-you-can-help.html
I can't do it without you, though. Please keep me on the road and help Project Jason help the families of the missing. Donate, share, and share some more.
For more information about my journey, please see
http://projectjason.org/forums/topic/3939-miles-for-the-missing-superbear-campaign/
Also, find me on Facebook at
https://www.facebook.com/profile.php?id=100010082341145
Families of the missing who are interested in hosting me, please email milesforthemissing@projectjason.org.